Join us in congratulating our 2018 State Partners of the Year!
Hunt Miller Insurance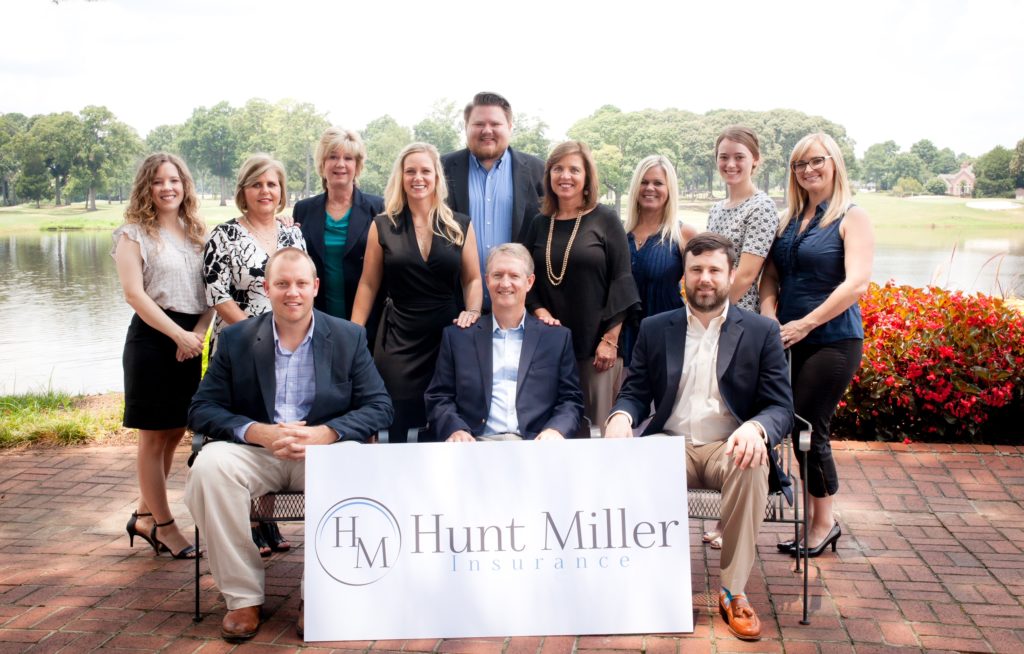 Front Row (L to R):  Andrew Dearing, Walon Smith, Josh Gurley
Back Row (L to R):  Brittany Waters, Debbie Wallace, Helen Willis, Elizabeth Collins, Erik Gotrich, Ginger Bowen, Stacy Krogh, Rachel Butcher, Katie Vigil.
"Since partnering with Keystone, we've noticed that we attract a higher quality of people to our company. We're a very different group than we were 4 years ago. We can now recruit and train to a very specific plan. Before, we just looked for industry experience and hoped for the best.  Now, our roles are much more clearly defined.
Our number one piece of advice would be to take advantage of all the resources provided by Keystone. We've used most of them at one time or another. Robert Sutter gave us the confidence and the tools to work on larger accounts.  Mary Eisenhart taught us how to build our operations to support the producers to maximize their potential.  Mike Policastro helped design our internal perpetuation plan.  Ralph Sitterson and David Irwin are trusted resources we use all the time. There's no way we'd be where we are without the help we've been provided, and we're just getting started!"
Schmale Insurance Agency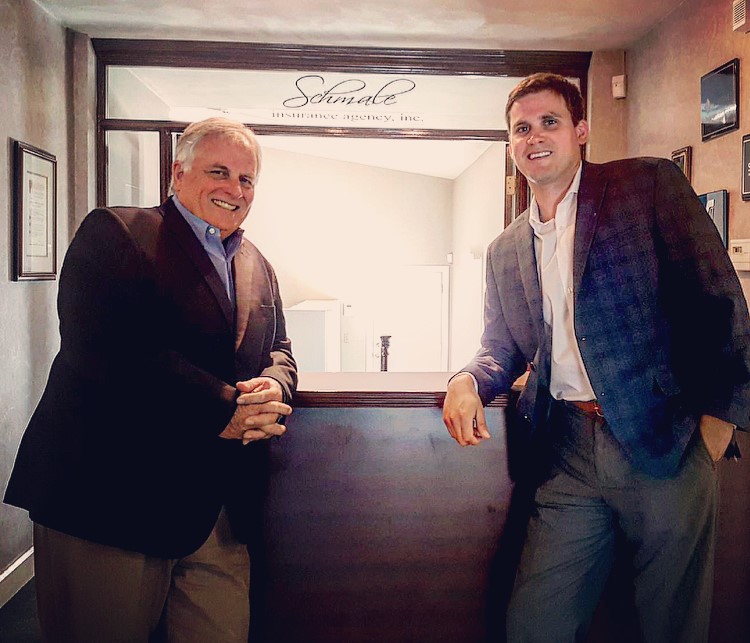 Richard Sedlak (left) and Stephen Sedlak
"If you aren't utilizing every aspect of Keystone you can, then you are leaving a lot on the table including relationships, knowledge, guidance and profits. Keystone has helped us become a more rounded agency that will help us transition from the 4th generation of ownership to the 5th generation.
By far the most positive change we have seen in our agency since partnering with Keystone is the resources and expertise we have available for our clients that we otherwise wouldn't have and didn't have in the past.  We can't just name one or two people who we have found to be our best resource. Our state VP Neal Williams has always been someone who really cares for the success of not just our agency, but all Illinois partners. Also, Tripp Craig has been a great asset in not only assisting us with complex risks but also his knowledge. And now Mark Blassie has been very instrumental in helping us transition and work at growing our benefits division as well."
Pfenninger, Claxton & Estelle Insurance Group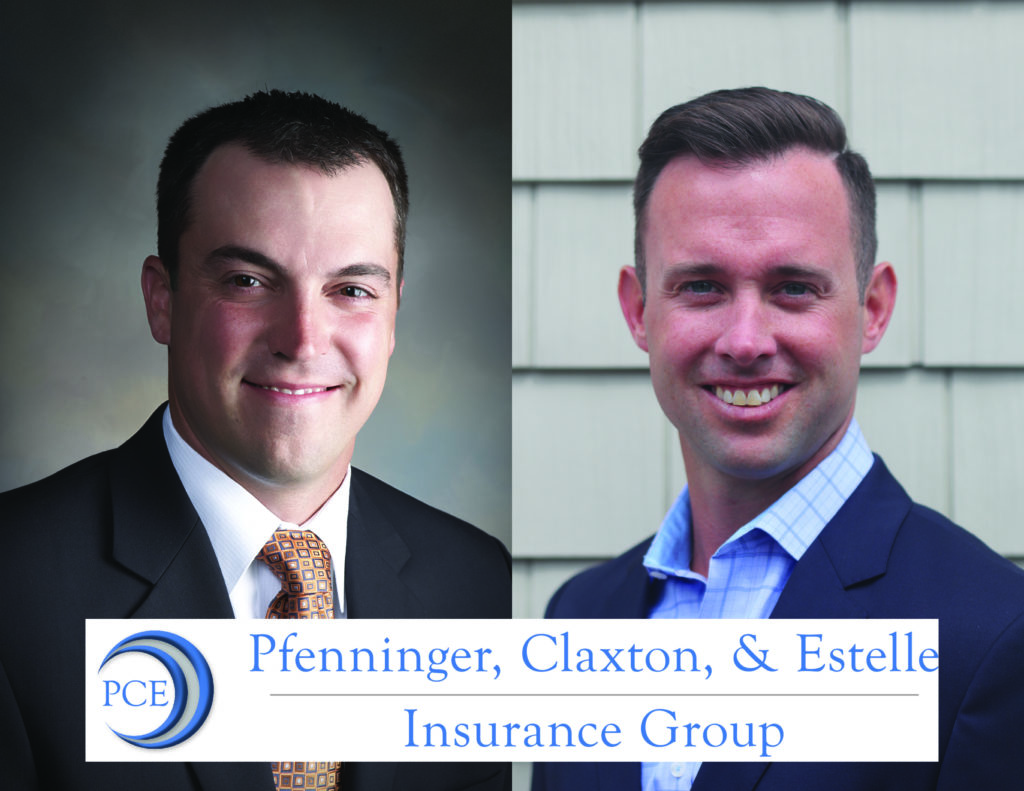 Brady Claxton (left) and Josh Estelle
"The number one piece of advice we would give to another partner is that it is critical to 'buy-in' to at least certain things that Keystone does for partners and immerse your agency in those resources and give back to other partners. There are so many resources available to us that you certainly can't use them all, but you need to find which ones work for you in terms of helping grow your agency and Keystone and commit to using those within the agency.
It is impossible to identify just one resource that we have found most valuable. In addition to the above, we have used the Employee Benefits division, Claims Management division, Growth and Profit, Commercial Marketing and many other divisions to bring value to our agency. The relationships and intellectual capital we have available to us through both Keystone employees and other partners is far and above the most important thing about Keystone for our agency. Despite the enhanced revenues, programs, etc., the human element is the most valuable."
Schumacher Insurance Agency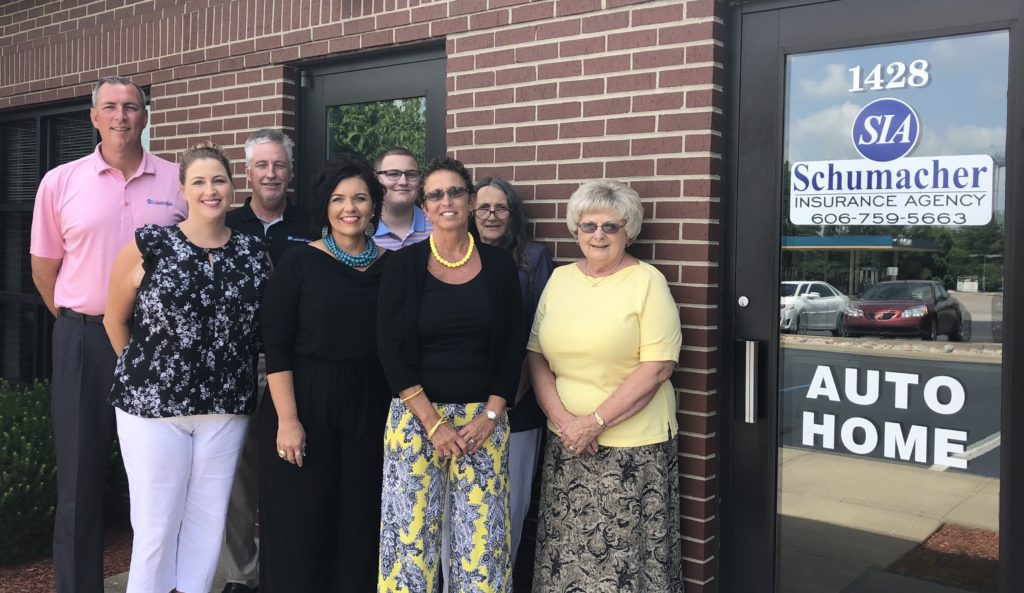 Front Row (L to R): Emily Bisotti, Gina Wright, Carla Pfeffer, Carol Moran
Back Row (L to R): Eric Schumacher, Rodney Tolle, Brett Scott, Joyce McCord
"Since partnering with Keystone, we've gained access to other markets that would not be readily available to a small independent agency. Being part of a larger group and network adds a special sense of security.
Our number one piece of advice would be to use all of Keystone's resources and ask your Keystone partners for help. Being a single owner, I haven't used all of the assets that Keystone offers, but my fellow partners have a wealth of knowledge and experience and they have gladly shared it. Every person within the company as well as every partner I've dealt with has been the greatest resource. In my mind, I felt like the 'little fish in a big pond' when I first started. That didn't matter to the other partners. They have always been willing to help if needed and treated me no differently than the larger agencies.  They want everyone to be successful!"
Barker Phillips Jackson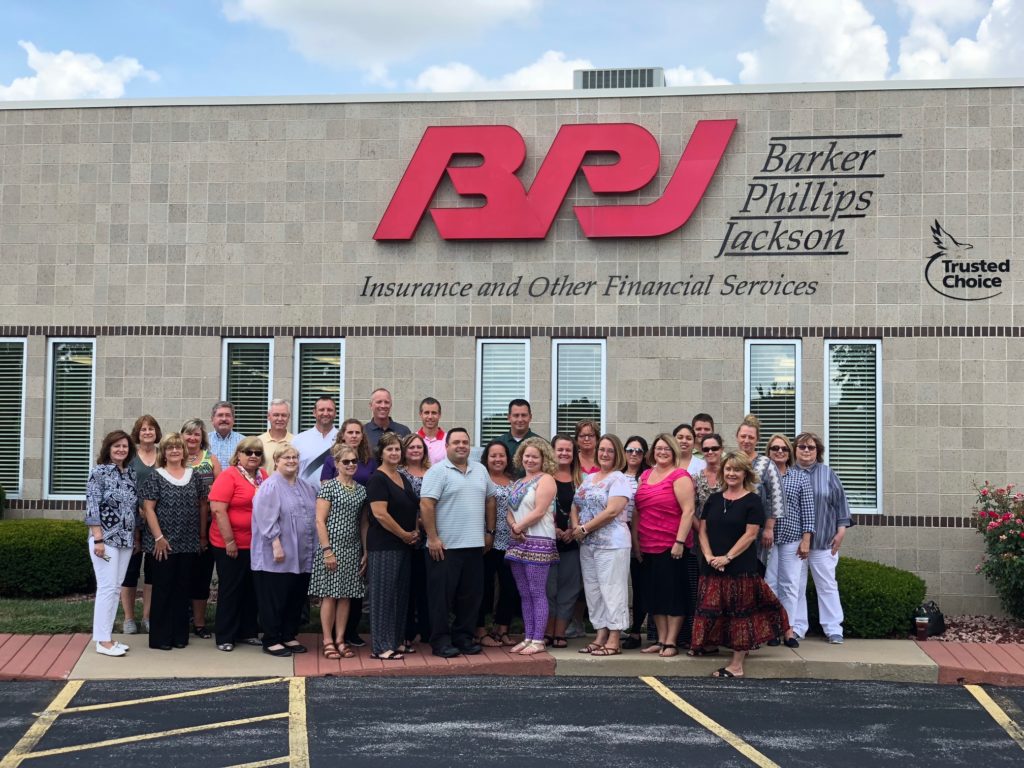 Front Row (L to R): Janice Johnson, Janet Williams, Suzy McFarland, Christy Townsend, Jamey Bunch, Tammy Williams, Brad Miller, Tammy Maggard, Brandi Bradley, Cori Cessna, Stacy McAdoo, Paula Goodin
Back Row (L to R): Grace Bryson, Deb Wehner, Tom Montileone, Stan Robinson, Jerod Hicks, Callae Doty, Justin French, Angela Broadwater, Brian Henry, Tammy Maggard, Darrel White, Holly Hall, Stacy Jensen, Lucia Triggs, Stephany Tiburcio, Brian Wampler, Susan Johnston, Jen Campbell, Susan Wood, Jenny Taylor
"The most positive change we have seen since partnering with Keystone is the attitude of our people, and for me it's all about attitude. Keystone gives BPJ a sense that we are not in this alone. We don't just think of ourselves as a regional agency anymore, we are part of something bigger. We now have a national footprint. Keystone's markets, tools, resources, programs, staff, etc. gives BPJ the feeling we can compete with anyone.  The best resources at Keystone are the people.  Their staff is friendly, knowledgeable and always willing to help.  Nevin Beyer, Robert Sutter, Ralph Sitterson, Brian Duncan, Elizabeth Schenk, Mary Eisenhart, David Boedker, and Andrea Powell have been incredible assets to our agency.
Our number one piece of advice for other Keystone partners would be that maintaining a strong balance sheet is more important than ever. Don't make this business more complicated than it is. Keep expenses down and grow revenue. New revenue will fix a lot of problems."
Triangle Insurance & Associates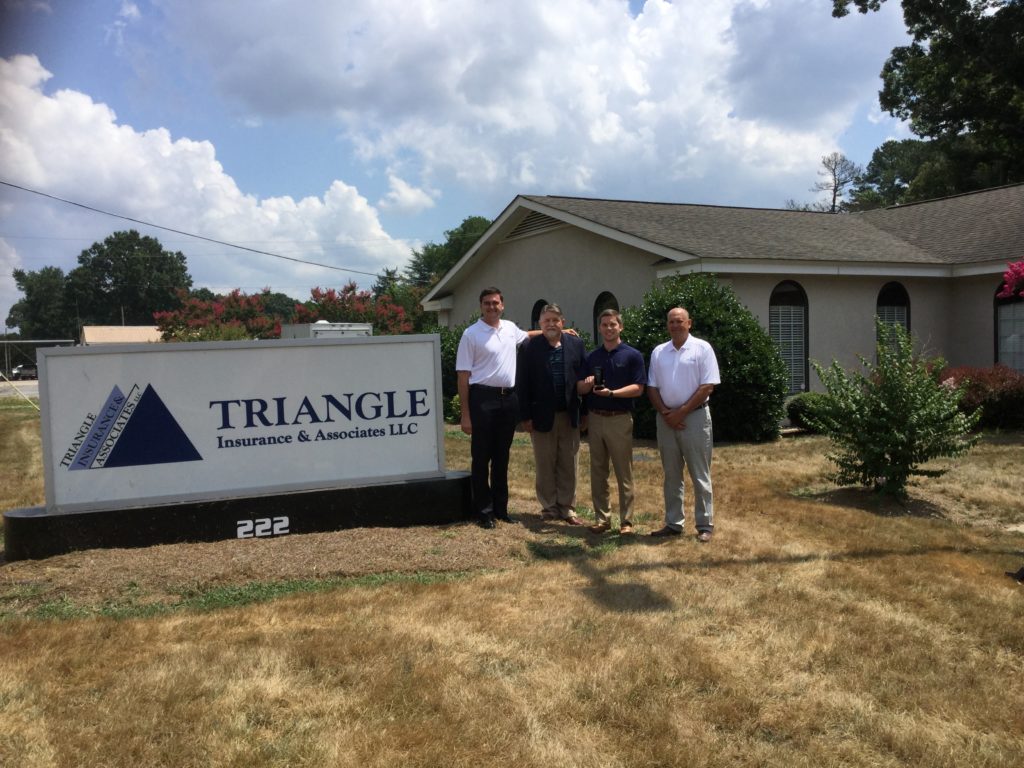 (L to R): JM Dickens, Jim Trotter, Jacob Alphin, Dene Castleberry
"We are excited to use this honor to motivate our agency staff to continue their hard work to make our business grow. The most positive change we have seen in our agency since partnering with Keystone is the development of a clear structured plan for growing our business.
The best thing we've done and advise other partners to do is engage with the resources of Keystone, particularly Mike Policastro. We call him Uncle Mike! His assistance with developing a plan has been priceless to help us double our agency revenue in 5 years."
Hosket Ulen Insurance Solutions
(L to R): Bill Hosket, Brad Hosket, and Alex Meiring
"Keystone is a fantastic organization that provides many resources and knowledgeable professionals to further assist your agency in becoming successful. Our best advice and what we have discovered is that; the more involvement an agency puts into Keystone, the more success that agency will have. By working with your fellow Keystone partners, you'll gain capital intellect that will become invaluable to your agency. Utilize all the resources and divisions that Keystone has to offer to help you achieve your agency goals.
Since partnering with Keystone, our most positive change has been more profitable growth with our core carriers. In the past, we may not have had options or solutions to certain client policies, but with Keystone, we now have access and opportunities to write any piece of business that comes through our door. This gives us a competitive edge over our industry peers, allowing us to adequately provide the necessary coverages and prices to assist our clients. We have utilized Risk Solutions to help shape our agency, build a culture and run our business more efficiently. Our relationship with our State VP's have been one of our strongest resources for the agency. We rely on the State VP's to assist us with carrier focuses, issue resolving and networking us with Keystone divisions. Division representatives like Melanie Rachau, Matt Sinosky, Ralph Sitterson and David Irwin have been influential and beneficial within our agencies. A top event for our agency that has helped us tremendously is the Emerging Leaders conference with Keystone every year. The industry and agency knowledge that we obtain with working with the top Keystone partners around the country is a critical source of information."
Franconia Insurance & Financial Services
(L to R): Sid Ruth, Chad Yoder, and Kyle Zehr
"Our number one piece of advice for other partners to improve their agency in the industry is to have conversations with your fellow Keystone partners – ask questions, learn from them, share strategies, and team up with them if needed on certain accounts. Utilize the niches of other Keystone partners to write that ancillary piece of business to solidify an account. Also, provide your staff with cutting edge tools they need to do their job well (agency management system, computers, technology, etc.).  Find areas of insurance where you can develop a niche, and then market specifically to that demographic and connect with persons/clubs.
The most positive change we've seen in our agency since partnering with Keystone is the opportunities available to us. Keystone is forward-thinking and has a big picture understanding of the industry. They provide us with resources that are developed to address critical agency issues. The best resource we've found is the experience expertise of the Keystone staff and other Keystone partners."
Porch-Stribling-Webb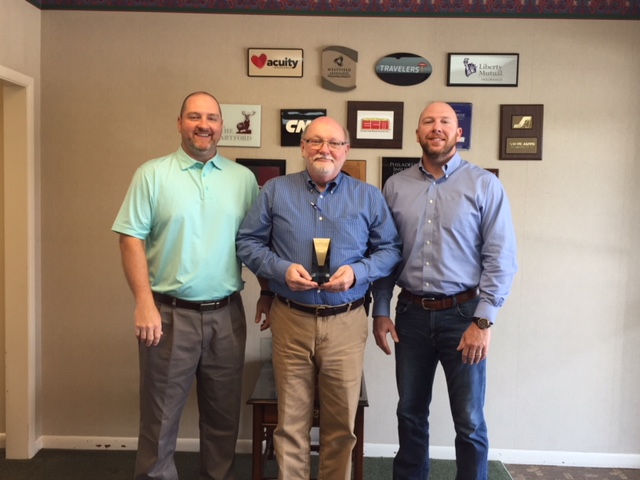 (L to R): Andy Porch, Dave Porch, and Taylor Porch
"We find it impossible to narrow everything that Keystone has to offer down to one person or one product. David Boedker, David Irwin, Ralph, Michele Bicknell, and the Commercial Marketing team have been very valuable to our agency. The number one piece of advice that I would give to another Keystone partner is, reach out and ask for help with you get to an issue that you have not had to confront before. There is no reason to invest time in trying to solve an issue that someone else has already solved.  Keystone and their partners have so much collective knowledge. We have learned so much from others in the partnership, it's invaluable.
The most positive change we have seen in our agency since partnering with Keystone can be summed up in one word, revenue. The power of Keystone: their core carriers, programs, the ability to connect us with improved markets for our specific specialties, and the enhanced profit-sharing have allowed us to bring in more revenue which has allowed us to broaden our offerings and the circles we prospect in."
HRI Associates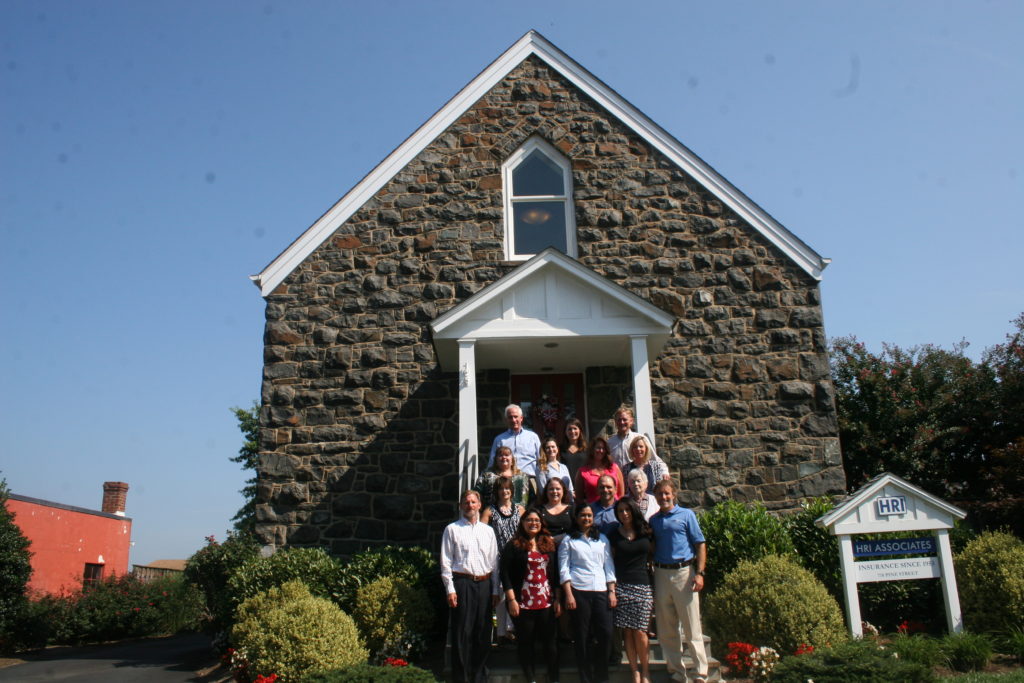 "Many people within Keystone have been a great resource for us and we've developed those relationships through work with the various divisions.  Ralph Sitterson with Claims Management, Dave Irwin with Commercial Marketing, and John Papp, Billy Bridwell, and Erica Hain with Employee Benefits are just a few that I regularly use as a resource and we call on them fairly often. Growth is the most positive change we have seen since joining Keystone, but also better planning.  As an example, our perpetuation planning through our work with Mike Policastro and Katie Downer's involvement with Emerging Leaders will enable us to be better prepared when that time comes, and Katie will have a lot more resources available to her than she would have otherwise.
Our number one piece of advice that we would give to our fellow Keystone partners would be to participate. We go to meetings and participate as much as we can. You get out of it what you put into it. The relationships we have been able to build with Keystone staff through work with the various divisions, and with partners from Virginia and other Keystone states is invaluable in opening doors and helping us generate new ideas for our agency."