Join us in congratulating our 2019 State Partners of the Year!
Fallaize Insurance
(L to R):  Michael Fallaize, Cal Fallaize
"The most positive change we've seen in our agency since partnering with Keystone would be that we have improved our sales effectiveness through educational opportunities such as the Top 20 sales program with Robert Sutter.  We have also gained quite a bit of knowledge by regularly participating in the Emerging Leaders program.
We would recommend that partner agencies engage fully with Keystone by attending state and national meetings, participate in educational and sales growth opportunities.  Being engaged in Keystone also allows partners, like us, to take advantage of the intellectual capital that is readily available.  We have benefitted greatly from a number of people within Keystone but would put Robert Sutter, Dave Irwin, and Ralph Sitterson at the top of the list."
Arachas Group
(L to R): Dallas Peters, Bill Sullivan, Kevin Lesch
"The day we heard about the news, we instantly let our agency staff know!  We are very proud of this achievement and want everyone to know.  The most positive change we have seen in our agency since partnering with Keystone has been the teamwork.  Keystone is not just a partnership, the people that work for Keystone are part of our team.  When we work on new projects, every Keystone employee is part of the team.  We do it as a team or we don't do it at all.  Our number one piece of advice would be to never be satisfied with mediocrity. We have a slogan in our agency that says, "Know what is expected and rise above".  I think this extends in all aspects of our insurance business, whether it is service or sales and also moves into your personal life.
I honestly can't pick out one resource or person that we have found to be the best resource for our agency.  Each and every employee, from the State, Regional VPs, to the Loss Control, Underwriting, Claims, and Sales specialist, we have dealt with, has brought their vital experience to the table and has added to the value that Keystone provides our agency."
PCE Insurance Group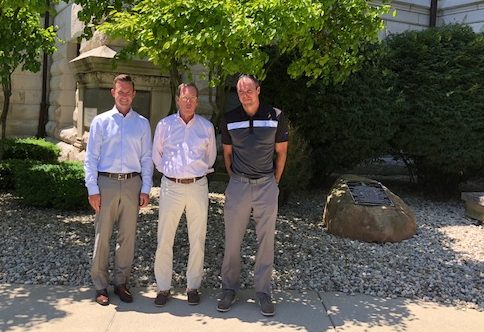 (L to R): Brady Claxton, Gary Thornhill, Josh Estelle
"The number one piece of advice we would give to another partner is that it is critical to 'buy-in' to at least certain things that Keystone does for partners and immerse your agency in those resources and give back to other partners. There are so many resources available to us that you certainly can't use them all, but you need to find which ones work for you in terms of helping grow your agency and Keystone and commit to using those within the agency.
It is impossible to identify just one resource that we have found most valuable. In addition to the above, we have used the Employee Benefits division, Claims Management division, Growth and Profit, Commercial Marketing and many other divisions to bring value to our agency. The relationships and intellectual capital we have available to us through both Keystone employees and other partners is far and above the most important thing about Keystone for our agency. Despite the enhanced revenues, programs, etc., the human element is the most valuable."
INSURAMAX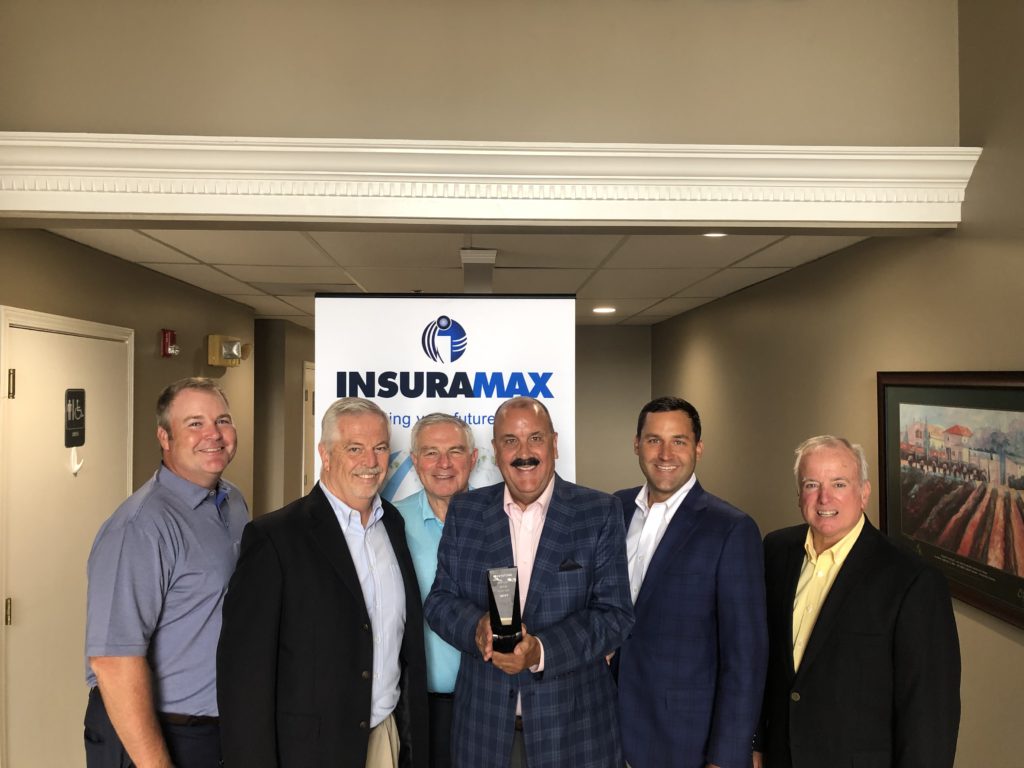 (L to R): Paul Allison, Joe Dever, Marvin Smith, Russ Wardlaw, Eric Harden, Tim Conder
Not pictured: Allen Hennessey, Chad Hennessey, Darin Smith
"The most positive change we have seen in our agency since partnering with Keystone is the knowledge and mindset that we are not your average midsize independent insurance agency any longer.  We are now equipped with all of the resources available to us through Keystone.  It gives all of our staff the confidence to know Keystone has our back and will assist us in every way possible.
We have used so many of the various resources Keystone provides, but for us the best resource for our agency would have to be Commercial Marketing. Through tireless work alongside Insuramax from Joe Joyce, Brian Brusoski and Jeff Moran and others behind the scenes, we landed a large national program that is growing and flourishing. It took all of us 5 years to accomplish our goal but the Keystone team believed in us and our ability to do our part to make things happen. In turn, we believed in Keystone to literally scour the marketplace to find just the right carrier partner to make this program a reality. Teamwork at its finest between Keystone and an agency partner! We believe in Keystone, we love Keystone and consider becoming a Keystone partner the best business decision we have ever made."
Top O' Michigan Insurance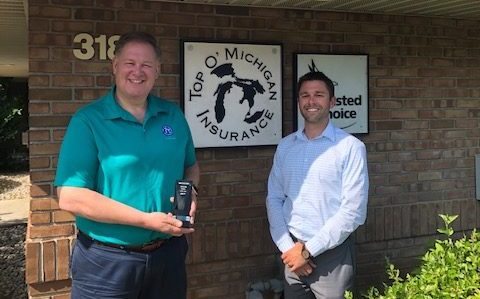 From left: Brian Bartosh and Tyler Bartosh
"When we first joined Keystone, the phrase "drinking water from a fire hose" was commonly used.  This is why prioritizing your needs as an agency is so important.  To be honest, the best resource within Keystone is the group as a whole.  We are able to sit around a table with other Michigan partners and the room is filled with an immense amount of intellectual power.  Keystone partners are unique and we're able to share our trade secrets with one another because of the trust we've built in a short time.  In addition to our partners, we have various departments that not only our leadership team can rely on but our team can reach out to.  We have found that there is not a single type of account that our team shouldn't feel comfortable working with.  The ability to game plan with great insurance minds that can help navigate through a challenging life case, learn how to provide a new level of group benefits, improve sales strategies and more.
Our number one piece of advice for other partners is to always be open to new ideas and change. Within our agency, we have developed tools and workflows that work really well and are very helpful in guiding our team.  However, there is always room to improve and build upon these ideas.  Our fellow Keystone partners also have so much to share which allows us as a group to test new ideas and constantly change to improve upon these workflows.  Our leadership team has to remain open to change so we can continue to build upon Keystone offerings and grow our agency."
Hawkins Insurance Group/Golden Rule Insurance
(L to R): Belinda Brenizer, JL Brenizer
"The most positive change we have seen since partnering with Keystone would be we are more focused on growth and more comfortable going after bigger accounts with someone behind you who can help.  On par with this would be the invaluable intellectual capital from other partners and the ability to call anyone for assistance or guidance.  The best resources at Keystone to us are the partner meetings and the national convention.  They also provide access to several divisions along with partner communication and camaraderie.
Our number one piece of advice for other Keystone partners would be to keep trying and not give up just because something hasn't worked because it will and then, the benefits will keep presenting themselves."
Granite Insurance Agency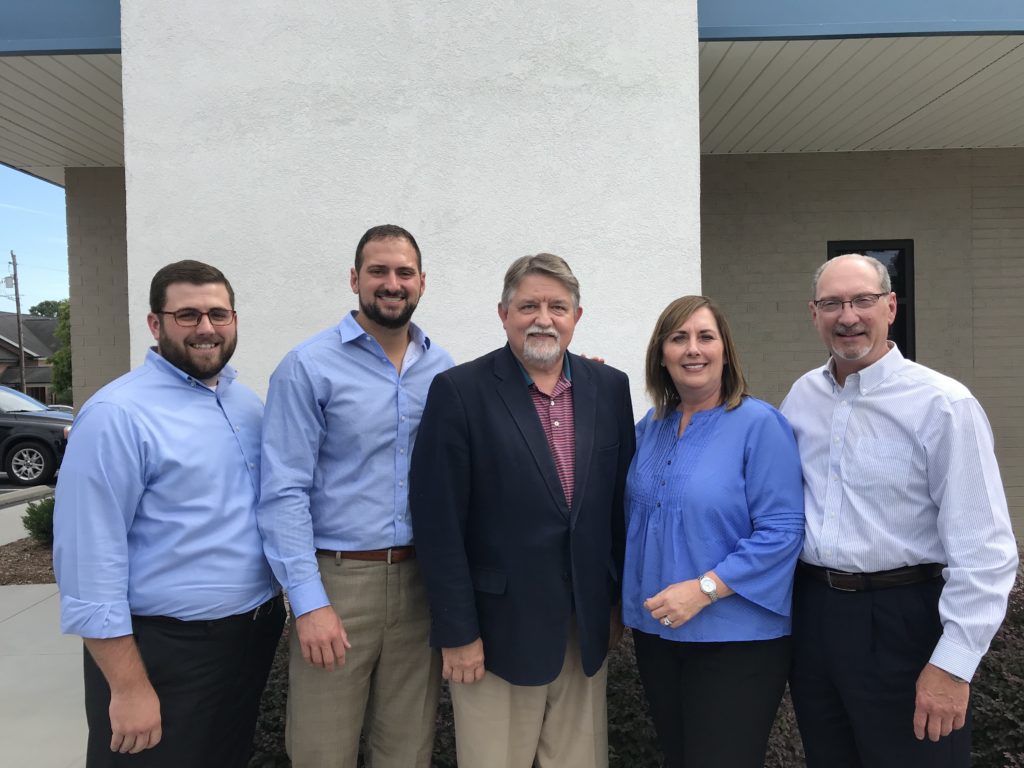 (L to R): Chase Keller, Cameron Annas, Jim Trotter, Lou Anne Annas, Neil Annas
"We are excited to use this honor as a tool as we continue to recruit the best and brightest team members, assuring the future success of Granite Insurance.  Since partnering with Keystone, our team has evolved into a sales focused team with an emphasis of assuring the communities we serve have maximum opportunity to fulfill their dreams and goals.  Our number one piece of advice for other partners is to choose those communities which the agency will serve, then focus on making a lasting and valuable impact in those chosen communities.  Communities can include client communities, agency team members, including groups of prospective team members, along industry groups like state associations and yes, Keystone.
It's almost impossible to narrow to just one resource that we've found to be best for our agency, but here are the ones which stand out.  First and foremost, the unbridled sharing of information between our Keystone partner agencies has been the best resource within Keystone.  Open and willing sharing of information from some of the best agencies in the country has allowed us to implement proven success tactics for our agency.  But I can't discount the value of Keystone's internal resources, especially our state VP, Jim Trotter along with others who have been instrumental to any success we may have had including:
David Irwin, for his assistance on helping us establish some key relationships in some of our target programs,
Mike Azar, with his help to provide tools and his expert help which helps us focus on the important ingredients for agency financial success,
Mike Policastro, Keystone's outside retained management consultant for his critical evaluations and discussion of our business plans, perpetuation plans and operational plans."
Huesman-Schmid Insurance Agency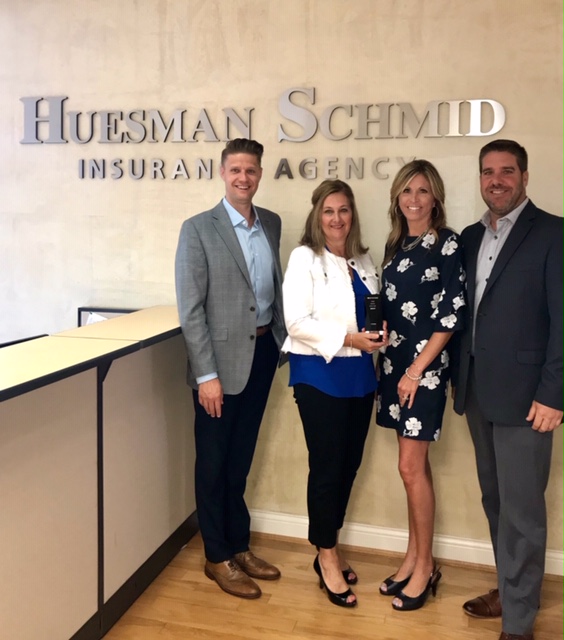 (L to R): Alex Meiring, Amy Schmid Roberts, Amy Meyer, AJ Schmid
"Our number one piece of advice for other Keystone partners is to take advantage of all of the resources to perpetuate your agency's success. HSI has used Mike Policastro, Josh Morgan, new producer training Programs, the marketing department, Risk Management division, Employee Benefits division and the Bonds division to name a few. Utilizing all of these has helped the agency grow.  Our State VP, Alex Meiring, is an integral part to our success with Keystone. We rely on him to educate us on the status of the state with Keystone, carrier relationships and being the resource for all things Keystone.
The Emerging Leaders conferences have been a value added for our agency and staff.  These meetings help us grow fundamentally as an agency and encourages us to build strong relationships with our partners, Keystone staff and carrier representatives. The information we receive from these meetings are invaluable to our agency.  We also work closely with the other partners and the Ohio Best Practices team to discuss agency management tactics, new business drivers, HR within your agency and how to diversify your revenue within your book of business."
The Seltzer Insurance Agency
(L to R): John Campomizzi, Steve Stramara, Frank Dumbleton, Pete Krammes
"We are humbled, honored and excited about this opportunity and we plan to showcase it in every facet of our marketing outlets.  While our partnership has brought countless positive changes to our agency, we firmly believe that the people we have met, the partnerships we've formed and the relationships we've built have allowed us to continuously develop our agency. We have infinite potential and possibilities thanks to the network we have formed, and we are grateful for the ability to intellectually share capital with other agencies and professionals.  There truly is strength in numbers, and the Keystone network allows all agencies to do more together than they could do on their own.
The insurance industry is ever changing, client's needs are constantly morphing, and the world is ever evolving. We have found that it will be impossible for one agency to have all the answers, but utilization of Keystones resources will aid in the progression and development of the insurance world. The tools that are available through Keystone partnerships will allow your organization to constantly evaluate and modify processes that will keep you up to date with the demands of the industry; and no organization should be afraid to take advantage of this fantastic resource that is right at our fingertips."
RSS Insurance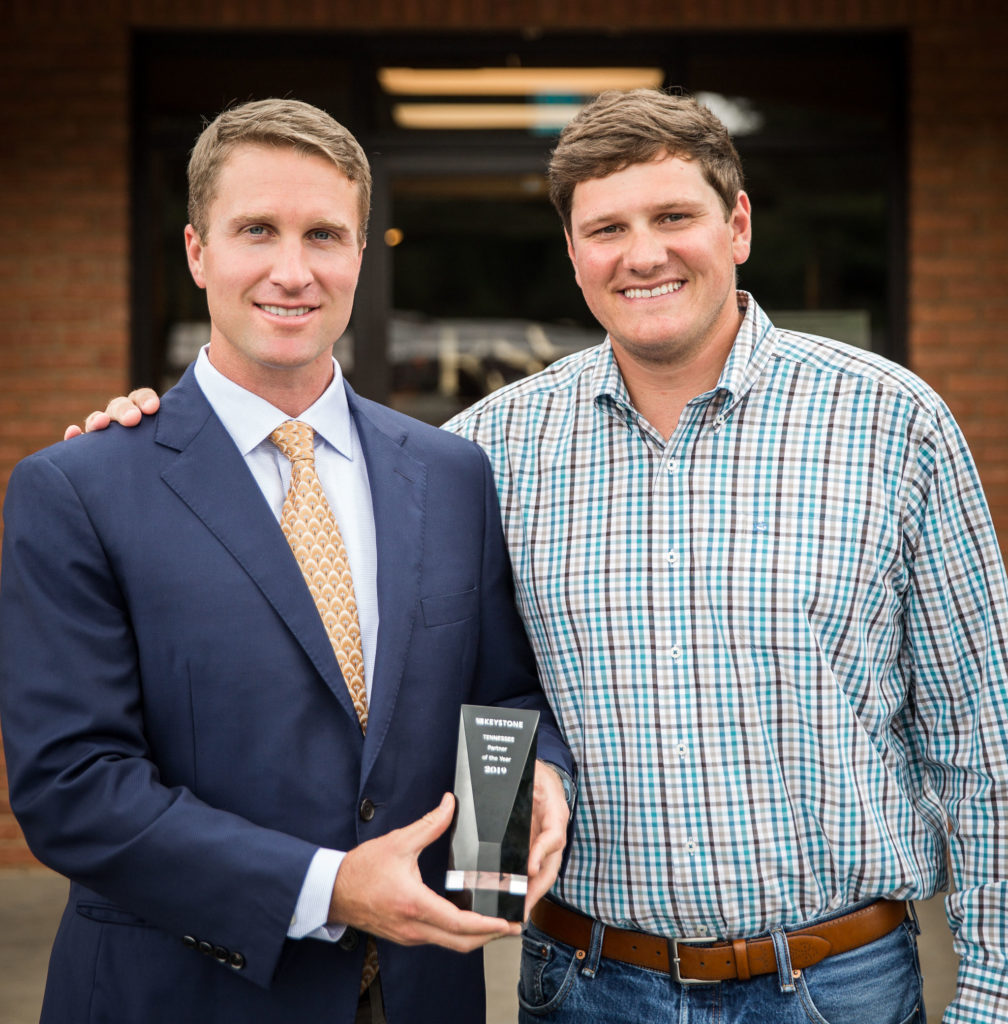 (L to R): David Allen, Trey Powell
"We will be using this honor to promote our hard work and dedication to our clients.  Our number one piece of advice we would give to another Keystone partner to improve their agency in the industry is to take care of your clients!  If we are not taking care of them, our competitors will!  The best resources we have found for our agency within Keystone has been Claims and Organic Growth!"
Towe Insurance Agency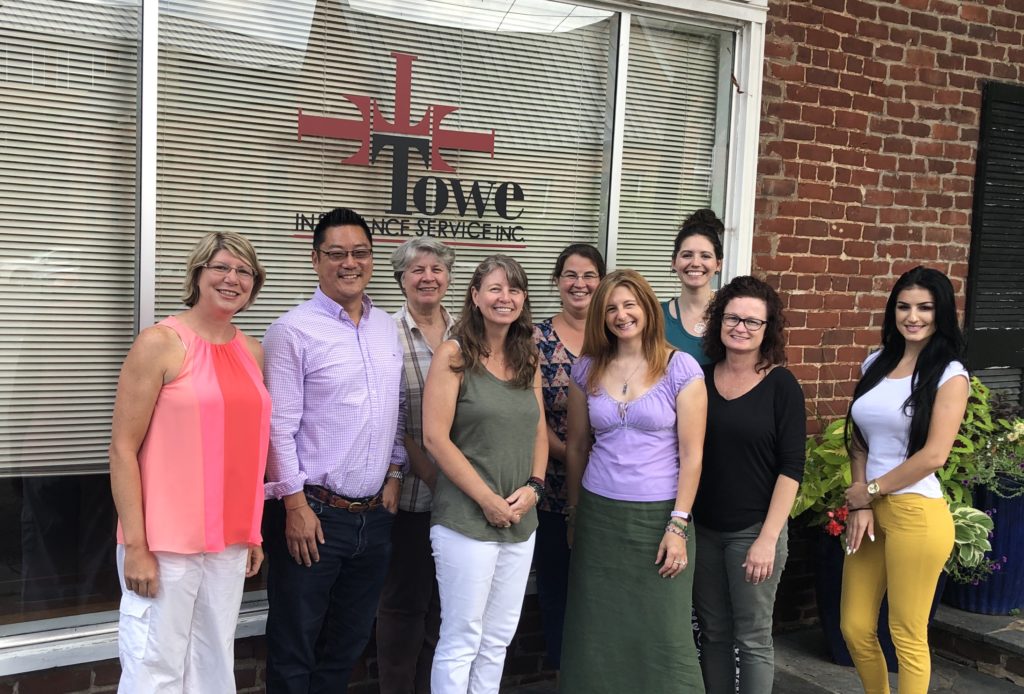 From left: Beth Towe-Heck and agency staff
"Keystone has helped me make time to work on my business and not just live inside the daily grind. This has given me the confidence to plan for the future, hire producers, and even acquire other agencies so that I can meet my goals.  My number one piece of advice I could give to another Keystone partner to improve their agency in the industry is to find excellent people who promote your culture and define your brand.  The work will always be the work but who you chose to do it with and the synergy of that team will have a lot to do with the agencies success as a whole.
There are three resources within Keystone that I have found to be the most helpful.  Mike Policastro has assisted by consulting with me on agency acquisitions. Robert Sutter has help me interview producer candidates. Then Robb Stottlemyer and the whole financial services team has created an extra stream of income I never had pre-Keystone. Robb goes through all possible options for my life cases which has given me a newfound confidence I didn't have in the financial services arena. I also need to plug Ralph Sitterson as he has done a great job on claims investigation!"