It's been reported that 80% of all independent insurance agencies in the U.S. will be aligned with a network or aggregator in the next few years. This shift reflects a rapidly changing industry (automation, consumer preferences for self-service), and a rapidly changing world (globalization, new technologies that drive changes to how we control risk).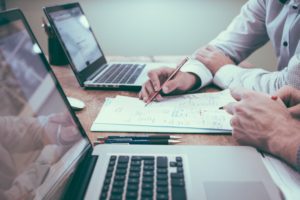 Affiliation with such groups offers opportunity to compete, grow, and thrive with added resources. But many independent agencies may be left wondering what they will lose in the balance. Keystone's model allows agents to maintain their independence while benefiting from added resources of a national scale. We like to say that although we are a franchisor, we don't operate as one. Instead, we're a community that seeks to empower our independent agents to grow faster than they could on their own.
How do we accomplish this?
Benevolent Independence: We reinforce the autonomy of our insurance agencies and foster growth for the good of the whole.
Do you wish to remain independent? Each of our agencies is 100% independently owned and operated. We do not dictate to our agencies how to run their business nor are they penalized should they feel we have not met their expectations and wish to disengage. Furthermore, we don't force agencies to change their name. Why would we change the recognition and reputation they worked so hard to build?
Could you benefit from a network of some of the industry's most successful agencies? Agencies choose to join Keystone for many reasons, but when asked why they have stayed, their response is almost always 'quality of agencies' and 'intellectual capital sharing.'
Better Together: We develop relationships based on shared goals, reciprocity, and mutual interests. The good of the whole benefits each part.
Do you want to grow your business? We work with successful agencies who aren't ready to rest. Agencies seek us out to retain the resources necessary to compete at the next level like producer recruitment and training, employee benefits, international account placement, risk and claims management, and specialty program assistance.
Do you wish to collaborate, not compete? All agencies sign an agreement not to compete with another agency's established book of business. Our agents rarely encounter one another; and when they do, they easily come to a resolution. In fact, the ability to call on another Keystone agent for guidance on a specific type of account or carrier appetite is a benefit often touted.
Do you seek to implement higher leadership standards? We provide various outlets for training and sharing of best practices – on regional and state levels as well as on a national scale. Collaboration between Keystone, our agencies, and carriers are transforming agency performance and elevating leadership qualities for all involved.
Champion Quality: We make earnest agencies stronger by putting the best resources and know-how at their fingertips.
Do you want to be recognized in the industry? Keystone is ranked as the 3rd largest agency partnership in the nation due to our size and performance. We are currently in 14 states with more than 275 agencies and growing. And you will be in great company as many agencies in our community continue to pay it forward through their efforts with state associations.
Is expanded carrier access on your list? We hold contracts with specific insurance carriers that we call "core" carriers. That doesn't mean we require you to relinquish your "non-core" contracts or move any books of business. We also employ other outlets for you to access markets when it's needed, but rest assured we work with you to make sure you have the markets you need for your business.
Are you looking for added revenue? We have spent over 30 years nurturing our carrier relationships as part of our community; and because of this, we've earned superior contingency agreements on behalf of our agents. All of our agencies participate and contribute to the contingency plans, giving them opportunities to earn more revenue than they would under a direct carrier appointment. Everyone bears the same responsibility to perform.
Eyes Open: We seek out market trends, threats, and opportunities. We share insights with our partners so they can focus on leading their business while we focus on what's next.
Do you desire consultative expertise? If a agency has a large, complex account, isn't comfortable introducing group captives or needs claims advocacy, we can help. We are here to help educate and empower our agents to sell new services that bring value to their clients. If that means joining a sales call or even flying to meet a client, we do what it takes to help you win more business. Our goal is to give you confidence so you can compete with any account of any size in the world.
Want to add new revenue streams? We offer sales and service capacity for P&C and benefits lines of business, depending on your agency's level of need. We operate as an extension of their agency.
Looking for help with marketing, new technology, or sales? Aside from regional and state meetings, we host three national events each year to help our agents connect with one another as well as carriers, vendors, industry experts and thought leaders who will spark inspiration on the development of new business plans and marketing strategies.
Do you want to recruit higher performing producers? We have a specific team that helps our agents recruit, evaluate, train, benchmark, and retain the best talent for their agency's needs.
Strategic Growth: We grow in deliberate ways over time. We adapt as we go to meet agent, carrier, and customer needs.
Do you admire flexibility and choice? Keystone not only brings products and services to your agency; we bring the expertise to help coach you on how to pursue your interests. As agencies grow with Keystone, they often become coaches for specialty programs and share their paths to success with others so everyone can learn new ideas.
Do you wish to implement industry-standard technologies at a discount? We negotiate discounts with many industry vendors that are passed on to our agents.
Always Clear: We carve out clarity from our industry's complexity and provide simple access to all we offer.
Do you wish to alleviate administrative burden? Keystone provides licensing and appointment support to help relieve your staff of the stresses that come with processes and procedures.
Would you benefit from a guide to support you in your business planning efforts? State and regional vice presidents serve as liaisons between your agency and Keystone to foster stronger relationships at a state, regional, and national level.
We know independence isn't easy. That's exactly how Keystone came to be almost 40 year ago. Four independent agencies faced a challenging market and realized they would be stronger together. We continue to wake up each and every day with that one goal in mind – helping independent agencies be better together.