Keystone Insurers Group (Keystone) named Burns Insurance Agency of Marshfield to its growing list of partners in Wisconsin. The announcement was made jointly today by Burns Insurance Agency President Cindy Burns and CEO Dan Burns along with Keystone's Vice President of Sales and Geographic Expansion Elizabeth Schenk.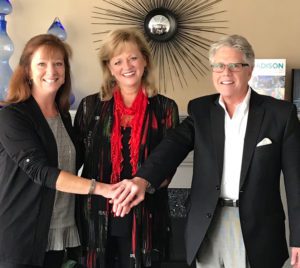 From left: Elizabeth Schenk, Cindy Burns, Dan Burns
"The growth and profitability of Burns Insurance Agency is impressive," said Schenk. "To accomplish these results year after year says a lot about the quality of an agency. It is an honor to recognize Cindy and Dan as our fifth and final pioneer partner agency in Wisconsin."
"Joining Keystone is a game changer," said Cindy Burns. "This gives us additional companies to strengthen our position with our carriers and in our marketplace."
Dan Burns referenced the book 'Good to Great' when he added, "We are doing 'really good' right now as an agency, but by partnering with Keystone, it will take us to being a 'really great' agency. Having the ability to deliver global capabilities at a local level is pretty darn exciting!"
About Burns Insurance Agency LLC — Burns Insurance Agency was established in May 2000 by Cindy Burns. Dan Burns joined the agency in 2005. Today, the agency employs 11 professionals. Burns Insurance is acknowledged as a Best Practice Award agency by the Independent Insurance Agencies of Wisconsin (IIAW) and was awarded "Entrepreneurs of the Year" in 2006 by the local chamber of commerce. For more, visit www.burns-insurance.com.