Keystone Insurers Group (Keystone) awarded Granite Insurance (Granite) of Granite Falls, North Carolina, its highest honor – National Partner of the Year – on Sept. 17 at Keystone's national conference in Reston, Virginia. Keystone President and CEO David Boedker made the announcement with Granite principals Lou Anne, Neil, and Cameron Annas.
The award recognizes the agency that best exemplifies Keystone's mission: "Independence works better together." Criteria include demonstrating a commitment to growing through leadership mentoring, engaging in technology advancements, employing best practices to improve operations and developing new income streams to strengthen business diversity.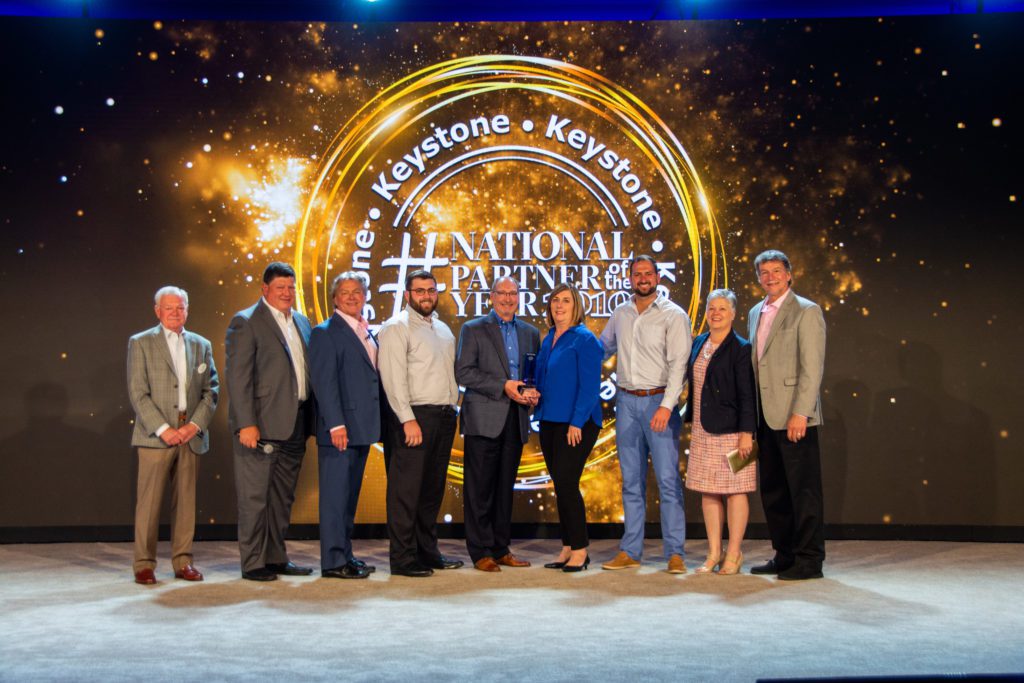 Granite Insurance accepts the National Partner of the Year award with Keystone's senior officers on September 17 in Reston, VA.
Granite was one of 11 state winners nominated for the honor. The other ten nominees, all of which are Keystone 'State Partners of the Year,' included:
The Annas' explained this award will help them grow their team to continue providing community-focused service: "We are excited to use this honor as a tool as we continue to recruit the best and brightest team members, assuring the future success of Granite Insurance. Since partnering with Keystone, our team has evolved into a sales focused team with an emphasis of assuring the communities we serve have maximum opportunity to fulfill their dreams and goals."
"Keystone is privileged to partner with only the very best independent agents and brokers in the country," said Boedker. "As an IIABA Best Practices Agency, Granite combines the strategies needed to move independent agencies forward in an age of technology and automation, while never sacrificing local service and professionalism. We're excited to name them our National Partner of the Year."
About Granite Insurance – Since 1936, Granite Insurance has been a staple in Caldwell County and the Granite Falls community. They are a full-service agency offering a complete line of coverage options for personal, business, and life insurance needs. Over the past 11 years, Granite Insurance has grown at an aggressive pace across the nation, now operating in 38 states. In 2005, Granite Insurance joined Keystone Insurers Group, giving them the ability to work with clients of any size or geographic location. Visit them at www.graniteinsurance.com.