Keystone Insurers Group (Keystone) awarded Sheeley Insurance Agency (Sheeley) of Stroudsburg, Pennsylvania, its highest honor – National Partner of the Year – on Sept. 19 at Keystone's national conference in Charlotte, North Carolina. The announcement was made by Keystone President & CEO David Boedker and Sheeley principal John Hollister.
The award recognizes the agency that best exemplifies Keystone's mission: "Independence works better together." Criteria include demonstrating a commitment to grow through leadership mentoring, engaging in technology advancements, employing best practices to improve operations and developing new income streams to strengthen their business diversity.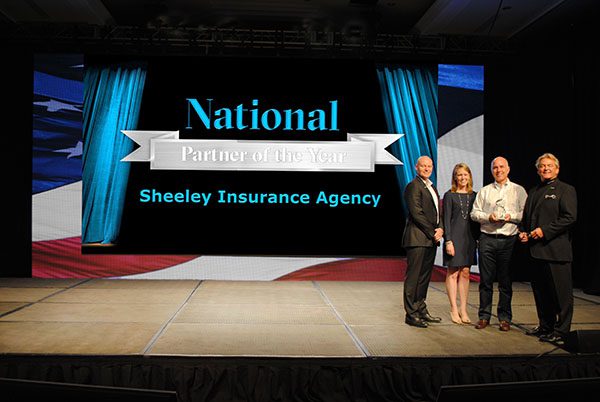 Sheeley was one of 10 state winners nominated for the honor. The other nine 'State Partners of the Year' included:
Hollister explained the extensive work that led the agency to winning the national award and the real reason his agency is part of Keystone.
"We've spent a lot of time on staffing," he said. "Our ultimate goal is to have all staff understand they are a critical part of the 'machine' and that their actions have positive and negative consequences. But it is our fellow Keystone partners that are the best resource. We've made a lot of close friends and generated the ability to talk about ideas, struggles, coverage issues and management/staffing issues. Within the partnership, we can be honest if we're struggling with something, and you don't often get to do that in business anywhere else."
"Keystone partners are of the highest caliber of independent agencies in the country," noted Boedker. "Sheeley Insurance Agency embodies everything that is extraordinary of the elite – constantly seeking new ways to develop talent and facing the numerous challenges of our industry with an intrepid spirit. We are beyond excited to acknowledge Sheeley's outstanding performance with the inaugural 'National Partner of the Year' award."
About Sheeley Insurance Agency – Sheeley is an independent insurance agency with four offices throughout eastern Pennsylvania. As a Keystone partner, the agency is committed to providing its clients national resources sourced locally. Learn more at www.sheeleyinsurance.com.