Keystone Insurers Group (Keystone), one of the nation's largest property and casualty partnerships, today  named Jeremiah Hale as Kentucky state vice president and Alex Meiring as Ohio state vice president.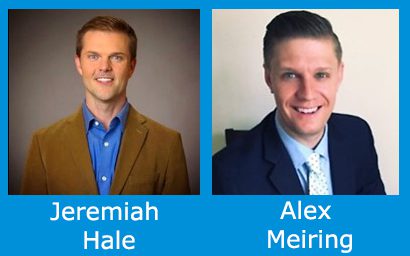 "We are excited Jeremiah and Alex have joined our team," said Mike Reddy, Keystone's employee benefits division president and leader of field operations. "Both have built a solid foundation leading sales and support teams, and are well-versed in business planning. Combined with their knowledge of the regional markets they'll serve, each will be instrumental in helping our agents prospect and expand their reaches throughout Ohio and Kentucky."
Hale had previously served on the carrier side as a sales manager and consultant responsible for profitable market growth, working with large sales teams to train and execute business goals. He holds a Bachelor of Business Education from Eastern Kentucky University and currently resides in Lexington.
Meiring had also served on the carrier side as a sales manager and underwriter, responsible for hundreds of agencies spread across two states. He also served on the agency side as an account manager. He holds a Communications degree from Bowling Green State University, Ohio and currently resides in Dublin.