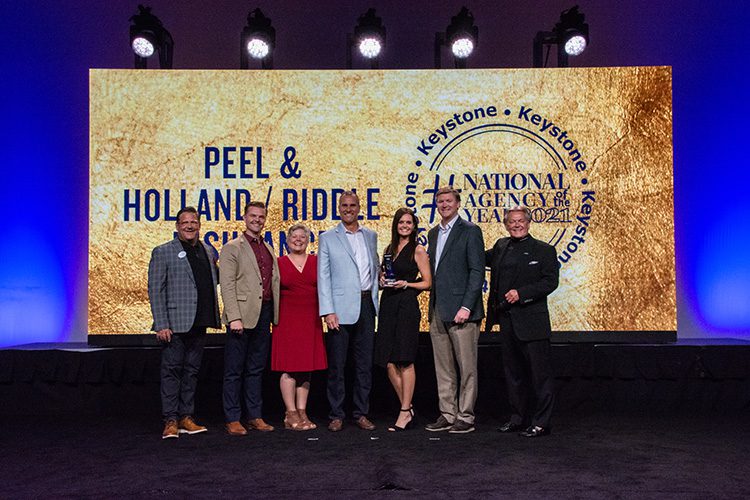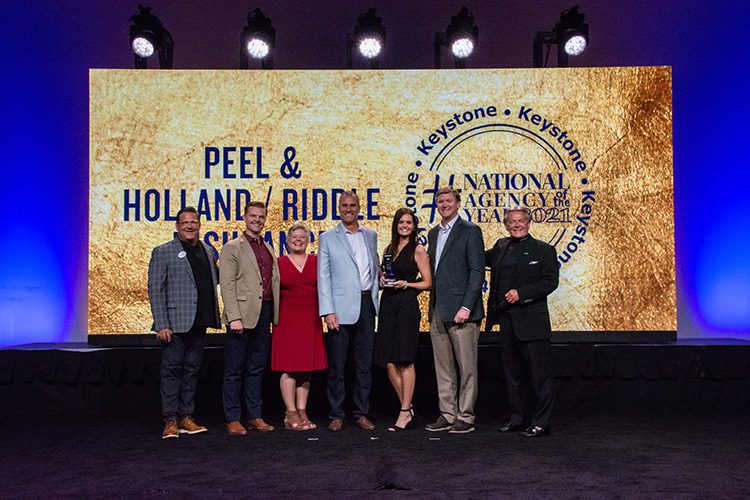 Keystone awarded Peel & Holland  and Riddle Insurance (Peel & Holland/Riddle), headquartered in Benton Kentucky, its highest honor – National Agency of the Year – during Keystone's annual National Conference. Keystone President and CEO David E. Boedker, Sr. made the announcement along with Peel & Holland President Roy Riley and Riddle Insurance President Skip McGaw.
The award recognizes the agency that best exemplifies Keystone's mission: "Independence works better together." Criteria include demonstrating a commitment to growing through leadership mentoring, engaging in technology advancements, employing best practices to improve operations, and developing new income streams to strengthen business diversity.
Peel & Holland/Riddle was one of 12 state winners nominated for the honor. The other eleven nominees, all of which are Keystone 'State Agencies of the Year,' included:
Members of the leadership teams from Peel & Holland and Riddle Insurance explained this award signifies the improvements they've made within the two agencies: "The most noticeable improvement in 2021 has been our focus on operating processes. This year, we're taking a step back, delving into the day-to-day nuances that make a huge difference, both for our team and our clients. We are systematically refining operations based on team feedback. In doing so, we are providing more training for our team and have been able to better utilize individual skill strengths. Our retention rates are up, and our team is happier, all because of our intentionality around improved processes."
"It is my honor to congratulate Peel & Holland as Keystone's 2021 National Agency of the Year," stated David E. Boedker, Sr., Chief Executive Officer of Keystone. "Keystone is proud to collaborate with the very best independent agents and brokers in the country, and Peel & Holland has demonstrated their commitment to the industry and their clients. Since becoming part of the Keystone family, they have leveraged all that we have to offer and have flourished. We believe the best is yet to come!"
About Peel & Holland, Inc. – Peel & Holland Inc. provides insurance services to businesses, individuals, employees, and public entities across 36 states. Established in 1924, Peel & Holland continues to build on a legacy of developing lasting relationships with clients they serve and within the communities where they do business. The company is headquartered in Benton, Kentucky with offices also located in Paducah, Murray, Mayfield, and Franklin. The company is recognized as an industry leader having been named one of Kentucky's "Best Places to Work" in 2018 – 2021, and as a Top 100 in the nation "Best Practices Agency" by the Independent Insurance Agents of America. For more information, visit www.peelholland.com.
About Riddle Insurance – Riddle Insurance is a privately-held independent insurance agency providing insurance products and services to businesses, individuals, employees, and public entities. Since 1918, Riddle Insurance has focused on family values and continues to build trust-based relationships with their clients, many across multiple generations. Riddle Insurance serves clients of all sizes across a wide variety of industries, having expertise in helping the agri-business and local farming community as well as serving the needs of contractors and the construction industry. The company is based in Madisonville, Kentucky. For more information or to contact a member of our team, visit www.riddleins.com.